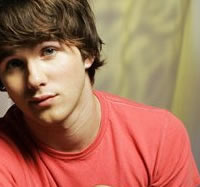 Gunner took a deep breathe and jogged over to his position, his starting point was the top of the half pipe, the arena set up in front of him was half inside and half out. Skate pits and half pipes were all set up inside while the outside obstacles all consist of stairs, railings and every day obstacles. It was up to the skater on what their routine would be, some even stay in one side since certain obstacles were their speciality. Still, if Gunner wanted his company to be noticed he would need to do something to impress both the crowd and the judges.
The warehouse that was hosting the event had spectators surrounding in different areas while the main event was towards the middle for the skaters to show offf their skill. He knew that the judges would be looking for both creativity and skill, so as he stood there looking out to the crowd he quickly eyed the extra skate boards he had set up around the arena for him to use.
Gunner could hear the crowd cheering for him and towards the corner he could see his team cheering him on, his eyes landed on Huntley who was actually on the other side of the pipe but was off set, he needed his best bro to help him with this and with little convincing Huntley agreed. A smile grew from his friend nodding him to win this and Gunner didnt hesitate to give him a thumbs up. Before he startedhe looked over to camera that was zooming in on him. " Anything you want to say before you start?" The camera man asked with his brows arched.
"Yeah" The skater nodded and looked directly into the camera. " This run is dedicated to someone special."
" Who exactly?"
"Watch carefully." He said tapping his hand and heard the song start. This was his time to shine.
Last edited by Foxtrot on Mon Mar 18, 2013 12:08 am; edited 1 time in total
Chairs thrown and tables toppled,
Hands armed with broken bottles,
Standing no chance to win but,
We're not running, we're not running.
Gunner pushed himself off the ramp and quickly slid over to rotate into a fluid spin and landing back. He continued to kick off to give him more speed as he rounded for his 2nd round up. He eyed the camera that was positioned from his target and when he was close enough, allowed himself to launch up into the air before rotating the board in a flourish. His right hand reached out towards the camera, positioning it on purpose for him to show his palm which read " A.J " You would have to pause it carefully to see it, but Gunner knew that A-jay would be sharp enough to see that single frame.
Gunner grit his teeth and stuck the landing, as he did so he continued to pick up speed and saw that he was about to do his first transition. He caught gaze with Huntley who was holding his second board and when the timing was correct, lept off his old one, caught the board his bro was exchanging to him and returning to land his routine!
The skater glided off the ramp with his eyes focused in front of him, he lowered himself to a crouch as the upcoming stairs was closing in. His 2nd transition to make his way out to the 2nd arena was setting up!
Gunner looked over to see his 3rd Transition coming in, he allowed himself to slow down before hopping up to connect with the 2nd skateboard and continued to roll with the momentum he kept.
The skater eventually kicked the extra skateboard off and began to maneuver his feet in what looked to be a dance. Every skater had their own unique style in the team, Joel for one had what looked to be a shuffle boarder. The footing had to be exact or else it would look sloppy, Gunner himself even had problems the first time but as he continued to practice it became more comfortable. He would have to thank Joel for the inspiration after the run.
The crowd went wild from Gunner spinning and once he came to a halt he eyed the outside course and saw that he was running out of time. With his brows furrowed, he kicked off and began to swiftly glide through the terrain until the 4th transition set. He kicked up just in time and rotated his board so it was off set to his right foot and landed his left on the 2nd board. The skater resemebled someone skeeing before kicking off the extra board and turning to flip the board on its side so he balanced on a grind.
As he continued his free style, his eyes eyed the 5th board waiting for him up the next level. Again, if it werent for his team he wouldnt be as great of a skater as he was now. With balance, he allowed the side of hte board he was on to grind against the concrete before kicking off a tree to his next board. Huntley was known as the board ninja, out of everyone he was the most resourceful when it came to obstacles. Even Trees.
When he landed the board he eyed the camera that was positioned in his pathway, he actually knew it would be there so he made sure there was a message on his board to show the company that this team had pride in its belief. Gunner kicked up the board and allowed it to rotate to reveal its deck.
No time to hate. ~ Cause there is always LUV.
The skater landed his last trick successfuly, and with a grin raised his fists into the air while the crowd cheered! Gunner laughed at what he finished and instantly his eyes shot over to the camera and he blew it a kiss. To the public, it was just him being himself but hopefully a special someone would see that as a sign. " YEAHH!! ELEMENT LUV!" Gunner shouted and raised his board in the air, the screams only getting louder from everyone going wild! The feeling.. was amazing.

---
Permissions in this forum:
You
cannot
reply to topics in this forum